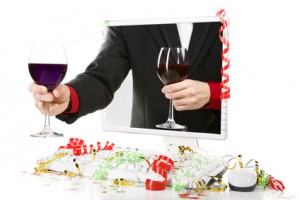 All relationships start with an introduction. Your relationship with your customers is no different.
So what does your introduction – your website – look like? And not just the visual component … what does it say about your winery?
How does it tell your winery's story?
Does it engage new customers?
How does it let new customers get to know you and your wines?
Showcase the wine experience, not just the wine
Ideally, your website should paint a word picture (actual photos help, too!) and show your potential new customer what he or she can expect to experience with your wine – whether at the winery, in a restaurant, at home, on a picnic, etc.
For example, which of your wines is worthy of celebrating a special occasion? Is one varietal or blend more suited to being an everyday quaffer?
You want your website visitors to relate to your wine in an emotional way that gets them ready to take the next step.
They're engaged emotionally ... what next?
What IS the next step? What do you want them to DO?
Visit the tasting room?
Join your club?
Sign up for your mailing list?
Contact you directly?
Buy online?
If you're not clear about what it is you want them to do, they probably won't do it.
On the other hand, if you provide a clear call to action – and if you've written your copy persuasively – then you have a much better chance of getting the results you want!
Writing persuasive copy that gets your reader to act … that's what I do as a freelance wine copywriter.